Birmingham riot deaths: Jury retires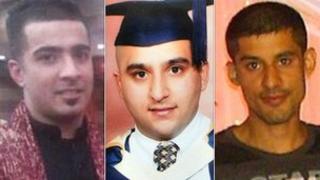 The jury has retired to consider its verdicts in the case of eight men accused of murdering three men in Birmingham during last summer's riots.
Haroon Jahan, 20, and brothers Shazad Ali, 30, and Abdul Musavir, 31, died after being hit by a car in Winson Green on 10 August 2011.
Eight men have denied murder during the trial at Birmingham Crown Court.
The prosecution alleges the three victims were killed in a "chariot charge" involving three cars.
'Unparalleled disorder'
During the three-month trial, the prosecution alleged the eight defendants were party to a plan to drive a vehicle at a crowd of people.
All defendants deny being part of a plan to harm pedestrians.
The defendants include: Ian Beckford, 30, of Holly Bush Road, Quinton; Adam King, 24, of no fixed address; Ryan Goodwin, 21, of Cranford Street, Smethwick; Joshua Donald, 27, of Kelsall Croft, Ladywood; Shaun Flynn, 26, of Wandsworth Road, Kingstanding.
The other defendants are: Everton Graham, 30, of Mount Pleasant Avenue, Handsworth; Juan Pablo Ruiz-Gaviria, 31, of Coplow Street, Ladywood, and 18-year-old Aaron Parkins, whose address has been withheld by the court.
Summing up the case before inviting the jury to retire, Mr Justice Flaux said the deaths happened at a time of "unparalleled" civil disorder on the streets of Birmingham.
On the first day of his three day summing-up, the judge said: "What happened to those three young men on Dudley Road on that night was a shocking and tragic waste of life.
"However, you must put all emotions and sympathy to one side and you must not let them cloud the judgment you have to make."