London 2012: Pupils watch US athletes in Birmingham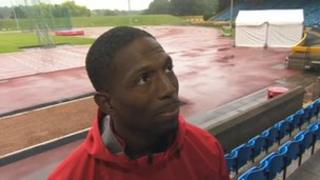 About 3,000 schoolchildren have watched the US track and field athletics team training in Birmingham for the first time ahead of the Olympics.
Pupils from 60 schools in the West Midlands were invited to see the athletes preparing at the Alexander Stadium on Wednesday and Thursday.
About 100 athletes from the US team will be based at the stadium from this week.
The team arrived in Birmingham on Tuesday.
The pupils also took part in running and jumping activities in Perry Park before parading into the stadium with banners to welcome the team.
Athletes, including US 400m hurdle champion Michael Tinsley, joined the children in the park.
Tinsley described the facilities as "magnificent".
He said: "I warmed up inside in the indoor facility and it lightened up a bit so I came out to the track."
Asked about what he has been doing in Birmingham, Tinsley said: "I got out to some of the local stores downtown.
"I got a chance to walk out and see some of the statues and different things, so it's really been nice."
About 1,500 children aged between five and 16 watched the team training for about 30 minutes on each day.
Birmingham City Council has said the indoor Birmingham High Performance Centre at the stadium site was "absolutely crucial" in attracting the US team.
The £3.3m facility includes an eight-lane 110m track, a gym and a medical suite.
Members of the Jamaican Olympic track and field team, including current men's world 100m champion Usain Bolt, have also arrived in the city.
The team will be training at the University of Birmingham during the Games.
A selected group of schoolchildren and members of athletics clubs have been invited to a training session at the University on 25 July.