Birmingham riot deaths: Accused 'did not see crash impact'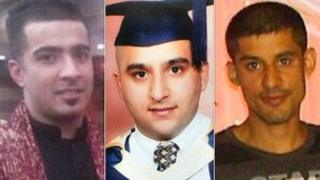 A passenger in a car which hit and killed three men during last summer's riots in Birmingham did not see the moment of impact, a court heard.
Everton Graham, 30, is one of eight men who deny murdering Haroon Jahan, 20, and brothers Shazad Ali, 30, and Abdul Musavir, 31, early on 10 August.
Mr Graham told the city's crown court his head was between his knees when the victims were struck in Winson Green.
He said he put his head down to save himself "from getting hit by a brick".
The front seat passenger, of no fixed address, said he did not realise anyone had been hit by the vehicle and initially thought a slab had struck his friend's Mazda as it passed a crowd armed with a variety of weapons.
'Throw things'
Asked to describe his actions as the Mazda drove towards the crowd, the father-of-one told jurors: "I put my head down, down between my knees underneath the dash.
"I knew the crowd was getting ready to throw things at the car.
"I just felt a big bang - I thought somebody had thrown something at the car, like a slab or something on the window."
The prosecution alleges that the three men were the victims of a deliberate and co-ordinated "chariot charge" involving the Mazda and two other cars near a petrol station on Dudley Road.
The incident was captured on CCTV, the court has been told.
'Utter rubbish'
Under cross-examination from prosecutor Timothy Spencer QC, Mr Graham denied he had changed his story to protect his co-defendants.
Describing the prosecution's case as "utter rubbish", he told the court: "They have not done anything wrong - there is no need for me to protect them."
During his evidence, Mr Graham said he was not conscious of an Audi and a Ford Fiesta which are alleged to have drawn pedestrians into the road.
Dismissing the Crown's claim that the three vehicles carried out a plan after coming together in a nearby side street, Mr Graham told Mr Spencer: "I don't know these people.
"I have never met them in my life - you have put us all in jail and charged us with murder."
Earlier in the trial, the driver of the Mazda, Ian Beckford, 30, denied deliberately driving into the victims.
The trial was adjourned until Monday.