Smethwick hospital plans delayed by review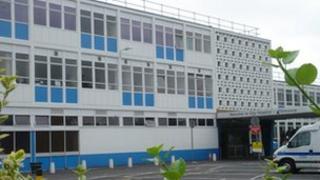 A £380m hospital in the Black Country has been put on hold until a government review into Private Finance Initiative (PFI) contracts is completed.
The agreements allow private companies to fund public sector building projects such as hospitals and schools.
The Midland Metropolitan Hospital in Smethwick was due to replace Sandwell and Birmingham City hospitals in 2016.
The hospital trust said it would review the timetable once the government review had been completed.
Chief Executive John Alder said while the current funding arrangement was looking "uncertain", the importance of the project had been acknowledged by the Department of Health.
He added that a new funding model, when agreed, could be a good deal for the hospital and save taxpayers money.
'Not reasonable'
The proposed site at an industrial estate on Grove Lane is largely empty, but eight businesses are still operating on the site.
Many of them have said they are unhappy with the way the project has been managed.
Paul Hampson, from Hampson Haulage, said the the deadline to vacate the site has been twice extended and has caused uncertainty.
He said an offer from the hospital trust to buy the business under a compulsory purchase order was so far "not fair and not reasonable".
"All we want is to be able to continue the business on another site," Mr Hampson added.
He said the eight businesses left on the site had agreed to take the trust to a tribunal to agree a market rate.
Mr Alder said: "We are not looking to short-change anyone, but, on the other hand, we're not looking to spend taxpayers' money unnecessarily."