Birmingham riot victims 'stepped into road'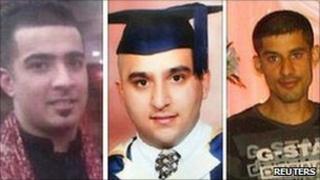 A man accused of driving into three men killed during the Birmingham riots, said he did not intend to knock them down.
Ian Beckford, 30, said he was at the wheel of the car which hit the men, but had not deliberately driven into them.
Mr Beckford is one of eight men who deny a murder charge over the deaths of Haroon Jahan, 21, and brothers Shazad Ali, 30, and Abdul Musavir, 31.
His defence said the three who died went into the road to attack the cars.
At Birmingham Crown Court, Mr Beckford, of Holly Bush Road, Quinton, said he had been at the wheel of the Mazda car which struck the three men.
He said he had not intended to knock down, kill or seriously harm the three men and said he had been "good friends" with Abdul Musavir and Shazad Ali, who he had known "for about 13 or 14 years".
'Unfortunate victims'
The three men were killed on 10 August on Dudley Road, Winson Green.
The prosecution have said they were among a group of people deliberately drawn into the road by another car, before being hit by the Mazda, in what was described as a "modern-day chariot charge".
Defending Mr Beckford, barrister Paul Lewis asked the jurors not to try the case on emotion or passion.
He said the collision happened when the three cars involved in the case were "under serious attack" from groups of men throwing bricks and missiles from both sides of the road.
"It occurred as the three unfortunate victims themselves stepped further into the road to attack the cars.
"It was a tragedy but it was an accident nonetheless."
The other defendants are: Adam King, 24, of no fixed address; Ryan Goodwin, 21, of Cranford Street, Smethwick; Joshua Donald, 27, of Kelsall Croft, Ladywood; Shaun Flynn, 26, of Wandsworth Road, Kingstanding; Everton Graham, 30, of Mount Pleasant Avenue, Handsworth; Juan Pablo Ruiz-Gaviria, 31, of Coplow Street, Ladywood, and 18-year-old Aaron Parkins, whose address has been withheld by the court.