London 2012: The Voyage in Birmingham cancelled due to rain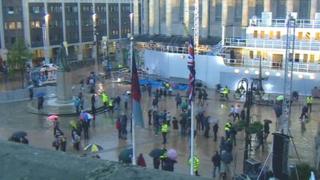 A free show in Birmingham that was set to open the London 2012 Festival has been cancelled because of the weather.
Heavy rain forced the organisers of The Voyage to cancel Thursday's opening performance in Victoria Square.
The show, which runs until Sunday, features a 50ft (15.2m) replica of half a ship and about 140 dancers and acrobats on wires.
Organisers said the conditions made it a serious health and safety risk for the performers.
Executive producer Stewart Griffiths said: "With aerial dance you've got to make sure everything is as safe as it can be.
"The rain was obviously not going to stop and there wasn't enough time to make the set safe."
Mr Griffiths said show organisers were monitoring the weather forecast and were hopeful that at least two performances over the next three nights would go ahead.
"We're in a very unusual period where there is sustained rain for such a long period but you would expect because it's towards the end of June you would get a break from the bad weather."
The Voyage is one of the shows that are taking place across the UK to launch the London 2012 Festival.