Birmingham riot deaths: Man denies car murder 'plan'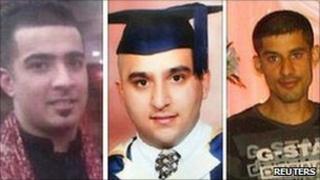 One of eight defendants accused of murdering three men during riots last August has told jurors he was not part of a "plan to murder".
Joshua Donald, 27, said claims he manoeuvred his car so that pedestrians would be hit was a "ridiculous" theory.
Haroon Jahan, 21, and brothers Shazad Ali, 30, and Abdul Musavir, 31, died after being run over in Dudley Road, Winson Green, Birmingham.
The eight defendants at Birmingham Crown Court all deny murder.
The prosecution alleges the defendants, travelling in three cars, murdered the three men, who were part of a crowd protecting shops from looters on 10 August.
Mr Donald, of Kelsall Croft in Ladywood, was driving a Ford Fiesta which prosecutors allege was used to force the victims into the road.
He told the jury he was scared and just wanted to get away from the area when his car was hit by missiles and bricks.
'Smashed to pieces'
He said: Just because they (the three cars) were in the same area, that doesn't mean we were all together.
"I weren't in no plan to murder. In fact, I weren't in no plan to hurt anybody.
"My car got smashed to pieces and I still never ran anybody over."
Mr Donald said he knew most of the Asian community living in Birmingham's Dudley Road and did not expect to be attacked.
The trial had previously heard evidence that local people had closed shops early and gathered together on the streets because their shops had been targeted by looters the previous night.
The father of Haroon Jahan, Tariq Jahan, told the jury that some young men had covered their faces and were throwing sticks and stones at passing cars.
Mr Jahan said that before the three men had died the atmosphere in the area had been "very tense".
The other defendants include: Adam King, 24, of no fixed address; Ian Beckford, 30, of Holly Bush Grove, Quinton; and Ryan Goodwin, 21, of Cranford Street, Smethwick.
The other four accused are Shaun Flynn, 26, of Wandsworth Road, Kingstanding; Everton Graham, 30, of Mount Pleasant Avenue, Handsworth; Juan Pablo Ruiz-Gaviria, 31, of Coplow Street, Ladywood, and 18-year-old Aaron Parkins, whose address has been withheld by the court.