Inspection at Brierley Hill rubbish pile site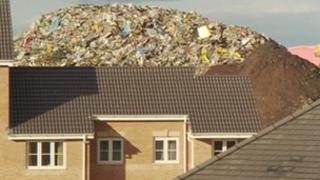 An inspection is due to take place at a West Midlands site where a pile of rubbish has towered over homes.
In May Dudley-based RDF (Refuse Derived Fuel) Ltd was given until Friday, 15 June, to reduce the pile in Brierley Hill to no higher than 8m (26.25ft).
An agreement which was made during informal talks was ratified at a High Court hearing in Birmingham.
The Environment Agency and the firm are due in court on Monday to give an update.
It has previously said the pile was about 13m (42.65ft) high.
Residents have said the pile, made up of household and industrial refuse, is a health hazard.