Birmingham riot deaths: Murder accused denies car role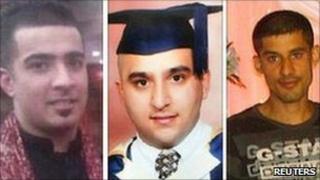 One of eight defendants accused of murdering three men during riots last August has told jurors he "committed no crime whatsoever".
Adam King, 24, said he was "certainly not" part of any plan for any car to be deliberately driven at pedestrians.
Haroon Jahan, 21, and brothers Shazad Ali, 30, and Abdul Musavir, 31, died after being run over in Dudley Road, Winson Green, Birmingham.
Mr King told Birmingham Crown Court he regarded Mr Ali as a friend.
Mr King, of no fixed address, told the court he also knew Mr Ali's brother, Mr Musavir.
The eight defendants all deny murder.
The prosecution alleges the defendants, travelling in three cars, murdered the three men, who were part of a crowd protecting shops from looters on 10 August.
'Driving around aimlessly'
Mr King was driving an Audi A3 which prosecutors allege was used to draw the victims into the road.
Giving evidence in the ninth week of the trial, he said he had been driving around many areas, but mainly in and around Winson Green.
"I was aware of the disorder in Birmingham and to be honest with you I was being nosey, just driving around aimlessly," he said.
Mr King told the jury he did drive past the crowd shortly before the victims were struck, but said he had no idea what the drivers of the two other cars - a Mazda and a Ford Fiesta - were going to do.
"I could just see a lot of people there," he told the court. "I could see they had weapons, sticks and bricks, but it was just a fleeting glance while I was passing.
"I assumed there was a very high possibility I would know people in that crowd."
Mr King, who was brought up in Winson Green, told jurors he then stopped his Audi, which was carrying four passengers, and looked back down Dudley Road towards the scene of the alleged murders.
"I can remember it was dark and I can just remember seeing headlights and silhouettes," he said.
"The silhouettes moved into the road and I seen missiles get thrown at the car, which must have been the Fiesta.
"I seen something fly in the air as well but I didn't know what it was."
Answering questions from defence counsel Rachel Brand QC, Mr King said he had "no idea" any pedestrians had been hit but was later told by a friend Mr Ali had been knocked down.
During his evidence, Mr King acknowledged he had refused to name one of his four passengers to police. He said three others had agreed that he give their names.
Mr King would still not name the fourth passenger, telling jurors: "How can I possibly name him now and risk him being put in that dock with people that don't belong in there."
The other defendants include: Joshua Donald, 27, of Kelsall Croft, Ladywood; Ian Beckford, 30, of Holly Bush Grove, Quinton; and Ryan Goodwin, 21, of Cranford Street, Smethwick.
The other four accused are Shaun Flynn, 26, of Wandsworth Road, Kingstanding; Everton Graham, 30, of Mount Pleasant Avenue, Handsworth; Juan Pablo Ruiz-Gaviria, 31, of Coplow Street, Ladywood, and 18-year-old Aaron Parkins, whose address has been withheld by the court.