Daughter of attack victim Emma Winnall, 93, appeals for help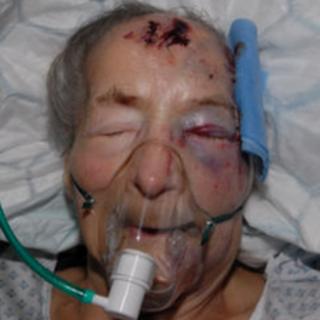 A 93-year-old woman who was attacked in her bed "screamed for help" but no-one came, her daughter has said.
Emma Winnall suffered a fractured skull, a broken arm and wrist and a partially severed finger at her Birmingham home overnight on 30 April.
Mrs Winnall's daughter, Joyce Blencoe, said the attack was a "horrific nightmare" and appealed for anyone with information to contact police.
Officers told a news conference the motive remained unclear.
Detectives believe Mrs Winnall was attacked between 21:00 BST and 09:00 BST the next day, when she was found by her carer at her home in Pensby Close.
There were no signs of a break-in at the grandmother's home and nothing was stolen, police said.
Mrs Blencoe, sitting beside her brother, 63-year-old John Winnall, said: "I'm appealing for your help to find whoever did this.
"To see your mum viciously beaten and covered in blood is the most horrific nightmare.
"It's broken my heart to hear my frail and defenceless mum manage to say that she was screaming for help and no-one came.
"So someone out there knows who did this. So please come forward before they do it to someone else."
Det Ch Insp Sarb Johal told the conference: "The level of violence is shocking.
'Struggling to understand'
"The injuries she's sustained would be challenging for someone half her age."
He said it was not known whether Mrs Winnall was attacked by more than one person or someone acting alone.
"She is not a rich woman and has lived in the area a long time. From what we can tell, she was also well liked by neighbours. We need to know who did this to her," he said.
"This is no time for misguided loyalties. If someone knows who did this to Emma, they must tell us."
Mrs Winnall had told police she remembered the assault and was "struggling to understand" why she was targeted. Her condition in hospital is described as stable but critical.