Wall of support for Aston Villa captain Stiliyan Petrov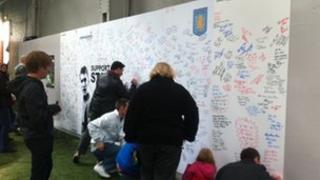 Aston Villa fans have signed a wall to show their support for club captain Stiliyan Petrov who has been diagnosed with leukaemia.
The club announced the 32-year-old midfielder's condition in March.
Supporters were asked to "sign for Stan" - Petrov's nickname - before Sunday's Premier League match against Tottenham at Villa Park.
Team-mate Barry Bannan said: "He's a strong character and you wouldn't know he had it, he's just normal Stan."
Petrov joined Villa from Celtic for £6.5m in 2006 and has scored 12 goals in 219 appearances.
He was recently voted Villa's player of the season.
The wall was officially unveiled on Tuesday when Villa players were among the first sporting figures to sign their names on it.