Doctor offers baby case apology at Birmingham inquest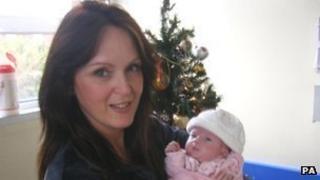 A doctor accused of treating the family of a seriously-ill baby with "utter contempt" has apologised for not requesting physiotherapy sooner.
Thirteen-month-old Hayley Fullerton died of heart failure at Birmingham Children's Hospital in November 2009.
Her family have accused staff of ignoring their concerns.
Dr Oliver Stumper apologised at an inquest but also said: "I think we provided therapy by and large at the right time."
'Express frustration'
The girl's family have accused staff of neglecting Hayley, who died on 11 November, and ignoring their concerns about her breathing as she recovered from corrective heart surgery.
Dr Stumper, a paediatric cardiologist, told Birmingham Coroner's Court: "I express my frustration and apology that we failed, that I failed, to request physiotherapy on the evening of November 9.
"Having said that, she did improve after she received physiotherapy on November 10."
The doctor said Hayley was "doing pretty fine" until she suffered an "acute sudden collapse" on the morning of 11 November, when both lungs collapsed and she went into cardiac arrest.
Her mother, Paula Stevenson, 40, told the inquest that she felt her child had been failed "abominably" by medical staff on the hospital's ward 11, describing her experience as "brutal".
'Utter contempt'
The girl's grandmother, Sylvia Stevenson, asked Dr Stumper what treatment could be given, after being informed by hospital staff that Hayley's right lung had collapsed on 9 November, the inquest heard.
It heard the family was told that physiotherapy would be arranged for the following day.
In a statement read to the court on Monday which was written before the death of the grandmother, Mrs Stevenson said Dr Stumper had "barked" his response to her questions.
She added: "My daughter said I looked like a parent in a third world country begging for my child's life."
Her husband Edward Stevenson told the coroner that Dr Stumper "glared" at his wife and "gave her a look of utter contempt" when she asked about the physiotherapy for her grand-daughter.
Hayley had palliative surgery at the Royal Victoria Hospital in Belfast, weeks after being born in Northern Ireland on 6 October 2008, the court heard.
In October 2009 she was flown to Birmingham Children's Hospital for corrective heart surgery.
The inquest was adjourned until Wednesday.