Meriden Gypsy campaigners defy an order to move camp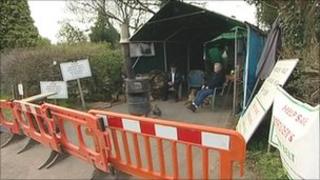 Campaigners opposed to an illegal Gypsy site have said they have "no immediate plans" to move their protest camp.
Residents Against Inappropriate Development (Raid) in Meriden were ordered by Solihull Borough Council to move a caravan and shelter by Sunday.
Raid has said they will not move the camp until after they have had talks with the council about how they can lawfully continue their protest.
The Gypsies have agreed with the council to leave by 31 March 2013.
Raid spokesman Dave McGrath said: "Residents were prepared to take down the shelter if it broke the law and begin open air protests, sitting in the mud and sitting in the rain."
But he said that given the offer from the council to talk to the protesters they would "keep everything as it is".
Explore options
He said Raid hoped to meet with the council sometime before the middle of May.
On Wednesday the council held a private meeting to consider an application from Raid asking to keep its demonstration camp for another year, which was turned down.
The council has said it will talk to the protesters to "explore options for the future lawful use of the site".
A spokesperson said they would now be considering what legal action they could take to force the protesters to move any "permanent structures" on the site.
Members of Raid have been taking it in turns to hold a 24-hour vigil at the camp since 30 April 2010 when the Gypsies put up eight permanent caravan pitches on a green-belt site in the village on Eaves Lane.
Mr McGrath said: "Our campaign will not cease until the green belt is restored in Meriden."