Birmingham new year party shooting killers lose appeal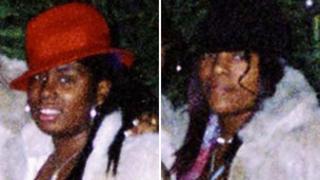 Three men jailed for life for murdering two friends at a new year party in Birmingham have lost an appeal against their convictions.
Letisha Shakespeare, 17, and Charlene Ellis, 18, were shot outside a hair salon in Aston on 2 January 2003.
Charlene's half-brother Marcus Ellis and Nathan Martin were sentenced to at least 35 years and Rodrigo Simms to 27.
The European Court of Human Rights said evidence from an anonymous witness in the trial did not breach their rights.
The witness was called "Mark Brown" at the men's trial in 2005.
Botched gang attack
The court said the applicants complained that the decision to grant "Mr Brown" anonymity and the admission of his oral evidence at trial had breached their right to a fair trial, including the right to examine a witness against them.
However, seven members of the chamber at the court ruled on Wednesday it did not affect the fairness of trial.
"The court was accordingly satisfied that the jury had been able to conduct a fair and proper assessment of the reliability of Mark Brown's evidence in the applicants' trial," the European Court of Human Rights said.
"It therefore dismissed the applicants' complaints and declared the case inadmissible."
Michael Gregory, aged 23 at the time of sentencing, was also ordered to serve a minimum of 35 years but was not part of the appeal.
The girls were shot outside the party in what the jury was told was a botched gang attack.
Ellis, aged 24 at the time of sentencing, Gregory, 23, Martin, 26, and Simms, 20, were also convicted of three counts of attempting to murder Sophie Ellis and Cheryl Shaw, who were with the teenagers on the night of their murders.