Birmingham Wholesale Market move 'could affect jobs'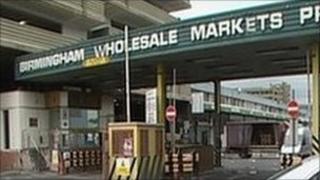 Campaigners against the relocation of the Birmingham Wholesale Market claim moving it could affect 15,000 jobs.
A report says the market is a "key economic catalyst" and supports 5,000 businesses in the West Midlands.
Peter Marshall, from the Birmingham Wholesale Fresh Produce Association, said: "Some traders have said they might just close up completely if we have to move."
Birmingham City Council said moving the market will protect jobs.
Mr Marshall said: "We want to try to keep it in the centre of Birmingham.
"Our preferred option is to stay where we are and a lot of shops and restaurants may have to shut because they wouldn't be able to afford to go and buy produce anywhere else."
A study commissioned for the Wholesale Market Association has found the markets support nearly 15,000 jobs and 5,000 small businesses and restaurants in the West Midlands.
The council said around 90 businesses operate on site, employing around 800 people directly, although the Wholesale Market Association said this figure can reach 1,100 depending on the season.
A council spokesman said: "The council understands the wholesale market operation plays a role in providing jobs both directly and indirectly within the local economy.
"The council is consulting widely in this regard and taking account of the condition and limited life of the current buildings and infrastructure.
Not fit for purpose
"Only by operating from a modern facility can the operation of the market and the jobs it supports be protected in the longer term."
The city council, which is controlled by a Conservative-Liberal Democrat coalition, has said the market's existing 35-year-old building is in need of refurbishment and no longer fit-for-purpose.
The plans to relocate were approved in May 2009 and a proposed move to a purpose-built site in Witton was dropped in July.
It has insisted it is not planning to close the market and plans are due to be considered early next year.