Olympic torch at Birmingham and Coventry universities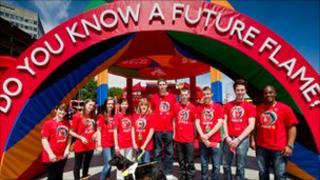 The Olympic torch is to visit Birmingham and Coventry as part of a four-week tour of universities to find torch bearers ahead of the 2012 games.
The aim is to offer students the chance to be involved with next year's 70-day Olympic torch relay through an initiative called Future Flames.
The torch will be at Birmingham City University on Tuesday 18 October and the University of Warwick on Wednesday.
The relay is scheduled to stop off in both cities next summer.
Birmingham City Students' Union president Robin Eves said: "We are encouraging everyone to come down to Millennium Point to nominate inspirational students who they believe should be celebrated with the once in a lifetime opportunity to carry the Olympic Flame.
"Nominations are open until 20 December and the dedicated campaign, run in association with NUS (National Union of Students), gives the UK's students a special chance to be celebrated as Olympic torch bearers next summer."
The relay begins on 19 May 2012 at Land's End and ends at the opening ceremony in the Olympic Stadium, with 8,000 people carrying the torch along the way.
The lit torch comes to Birmingham on 30 June and arrives in Coventry on 1 July 2012.