Birmingham's Eastside regeneration 10 years on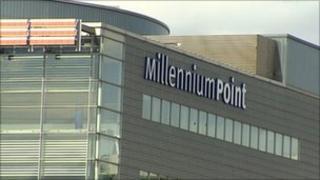 It was supposed to be the catalyst for one of the UK's largest urban regeneration projects.
But as Birmingham's Millennium Point prepares to celebrate it's 10th birthday, much that was promised for the rest of the city's Eastside has yet to materialise.
Ten years ago the talk was of millions of pounds worth of investment and thousands of new jobs but a decade after the plans were first unveiled many of the schemes have either been scaled back or simply have not happened.
Millennium Point has been a success although a lack of progress elsewhere on the Eastside has not made things easy.
The building houses visitor attractions, educational establishments, commercial and retail businesses.
Sir Bernard Zissman, chairman of the Millennium Point trust board, said: "In life things can always happen faster but we are a millennium project and 10 years happens to be one per cent of millennium."
Although much of the Eastside is still derelict some parts have been developed.
Much of the so called "Learning Quarter" is complete including three new colleges.
Some of the residential properties have also gone up and builders are currently on site constructing a new hotel.
Elsewhere work has begun on what will be Birmingham's first new public park in more than 100 years.
It is evidence, according to Birmingham City Council, that some of what was promised is being delivered.
'Difficult time'
But the council's head of city centre regeneration Andrew Rounds admits that there has been a bit of a "pause" in the development.
He said: "You have to recognise that we have been through a very difficult time both in terms of the property market and also now in terms of public sector investment."
One project that appears to have been scrapped is plans for a vertical theme park. The futuristic tower called VTP 200 would have offered stunning views of the city.
But now a new college is being built on the site originally earmarked for the tower.
Property experts like John Griffiths, from GBR Phoenix Beard, maintain that the Eastside plans were just too ambitious.
He said: "The statement that it would be completed in 10 years was over-ambitious.
"You've got to look at other examples. On the other side of the city we've got Brindley Place - that will ultimately have taken 20 years to come from the drawing board to completion."
But more recently plans for high speed rail (HS2) have given the Eastside regeneration project a major boost.
Although some projects have been halted while the HS2 plans await approval, Birmingham architect Glenn Howells is already looking forward to having an international station on Eastside.
He said: "We're talking about a hundred acre site with potentially three or four million square feet of development all of which now can plug into HS2. Where else can you get that chance?"