Strike by Unison staff at Birmingham City Council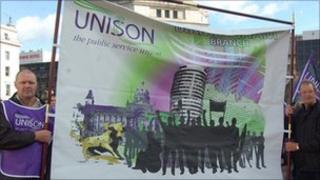 Inside the International Convention Centre (ICC) in Birmingham, the Liberal Democrat conference was into its last day, while outside the hall purple flags and placards signalled a strike by hundreds of Birmingham City Council workers.
Led across Centenary Square by the Unison banner, scores of the union's members took part in the organised rally outside the ICC to protest about new employment contracts being introduced by the council.
Inside a designated cordoned-off area, the union members made their protest via a series of chants for about half-an-hour before they made their way to another rally in the city.
At the centre of the protest were the new contracts, which the union said removed various pay enhancements and introduced insecurity over employment.
Condition change
Jeanette Cook from Dudley summed up how people were feeling.
"When you take a job, you take a job with those conditions, you don't expect those conditions to change so drastically," she said.
The Adults and Communities worker said that both she and her husband worked for the council and they were set to lose about £6,000 a year.
"We live in a modest three-bedroom house which is in negative equity and we will lose our house," she said.
Elderly-care worker Mary Bates said she also stood to lose money under the new contracts, which are due to start on 1 November.
"My money is going down... we have to pay our bills at the end of the day like everybody else and our bills are going up," she said.
Another worker taking part in the rally was John Lawlor who is employed by Park Ranger Services.
Fair and necessary
He said he faced a "massive" pay cut and was also worried about his pension.
"How can I contribute to my pension if I'm going to lose out on wages?", he said.
Birmingham City Council, which is run by a Conservative and Liberal Democrat coalition, has previously said the contracts are fair and necessary if it is to make savings of more than £300m over the next four years.
It said it would be monitoring services across the city throughout the one-day strike.
Councillor Alan Rudge, cabinet member for equality and human resources, said: "Industrial action is always regrettable and disappointing but we have contingency plans in place for such outcomes - and they were proven to be effective as recently as this summer when the vast majority of city council services operated as usual when a similar one-day strike was staged."