Jaguar Land Rover 'to build major engine plant'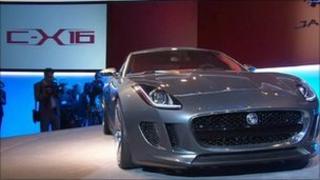 Luxury carmaker Jaguar Land Rover (JLR) is set to announce plans for a major new engine plant in the West Midlands.
The development, which is expected to take up to two years, will be on the i54 business park in Wolverhampton, confirmed as one of several new enterprise zones in July.
JLR, owned by Indian firm Tata, was previously believed to be considering sites in south Wales and India.
It is believed the engine plant will employ hundreds of people.
It is thought the manufacturer has financial support from the government.
In July, Mark Prisk, Minister of State for Business and Enterprise, told BBC News that Wolverhampton was the only UK option for a new engine plant.
New concept cars
The business park is part of a 120-hectare site in Darlaston and Wolverhampton North, in the Black Country.
Ford currently supplies engines to Jaguar Land Rover from sites including Bridgend and Dagenham.
The news increases the luxury car manufacturer's presence in the West Midlands.
The group's headquarters is in Gaydon, Warwickshire with Land Rovers produced in Solihull and Halewood, Merseyside and Jaguar models produced at Castle Bromwich, near Birmingham.
Last year Jaguar Land Rover announced it was reversing a decision to close one of its two West Midlands factories.
Last week, the firm unveiled three new concept cars at the Frankfurt Motor Show on the back of a period of strong sales fuelled, partly, by a growing number of orders from foreign markets, including China and India.
One model, the C-X16 sports car, was described by some as the "spiritual successor" to the iconic E-Type.
Jaguar and Land Rover are spending about £7bn on new models, engines and technology over the next five years.
Professor David Bailey from Coventry Business School told BBC News the announcement was a huge boost for the industry.
He said it was a positive position for transporting engines to its other plants.
Businesses tax breaks
"Firstly, it's a really accessible site so what you want is an engine plant within a day's drive of your assembly plants so they can build engine there and get them to plants in Castle Bromwich and Solihull and up to Merseyside very easily.
"But it's also an enterprise zone and normally that gives rate relief.
"I think in this case, it may well be more about capital allowances that JLR can invest heavily in more plants and equipment and write that off against tax."
Enterprise zones offer new businesses tax breaks worth up to £275,000, simplified planning and super-fast broadband.
Wolverhampton City Council said after confirmation from the government in July that it hoped the new zone would create almost 4,000 net new jobs by 2015 in advanced manufacturing for the automotive and aerospace industries.