Arden Vale becomes third Castlebeck care home to close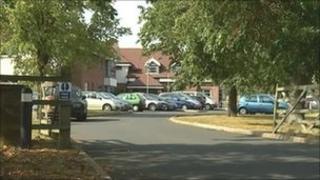 A third care home run by a company at the centre of allegations of abuse against vulnerable patients is to close, it has been announced.
The Care Quality Commission (CQC) said Castlebeck had agreed to close Arden Vale, in Meriden, near Coventry, by next Thursday.
Castlebeck said it was making other arrangements for the 19 residents.
The company owns Winterbourne View, in Bristol, where abuse was filmed by an undercover BBC Panorama journalist.
'No evidence'
Since the BBC One programme was broadcast, the home for people with learning disabilities has been closed by the CQC.
And Castlebeck announced last week that it was to shut Rose Villa, also in Bristol, for "operational reasons".
Arden Vale, which cares for people with mental health problems and learning disabilities, was the subject of legal action by the CQC after it inspected the facility in June.
The move would have prevented Castlebeck from operating at the site.
Andrea Gordon, CQC's regional director for the West and East Midlands, said it had taken action after seeing "no evidence" of the improvements to care it had demanded.
She said: "Castlebeck has responded to our action by agreeing to close the service on a voluntary basis.
"When CQC published reports into all 23 Castlebeck locations at the end of last month, we identified four services where we had significant concerns.
"Arden Vale will be the second of these locations to close; Rose Villa in Bristol closed last week. A third service, Winterbourne View, was closed following CQC action in June.
"We continue to monitor all Castlebeck services very closely."
Lee Reed, Castlebeck chief executive, said it agreed with the CQC's report and would not appeal against the body's decision.
'Improved reporting systems'
He said: "We will be working with the people in our care at Arden Vale, as well as their families and care managers, to ensure that there is minimum disruption and that the right services are found for their needs."
The chief executive said Castlebeck was already in the process of introducing improved training and "significantly improved reporting systems".
"We remain deeply sorry and apologise for any incidences where our services have in the past not met the high standards that we, those we support and their families, expect and deserve."
Thirteen members of staff were suspended from Winterbourne View before it closed, after Panorama filmed an undercover documentary there.
The footage showed residents being pinned down, slapped and taunted.
At Rose Villa, four people were suspended before last week's closure announcement. Few details have so far emerged about why they were suspended.
Meanwhile, documents seen by BBC Social Affairs Correspondent Alison Holt reveal the extent of complaints to the regulator about Winterbourne View.
Last year the CQC received nine reports about the care home - compared to four in the two years before.
Most of the documents - obtained under a Freedom of Information request - are official notifications of incidents at the home.
One says: "It was alleged that the support worker had squeezed the patient's neck during a restraint and that the patient had found it difficult to swallow following this incident. The patient also stated that the support worker gets rough when angry."
'What was concealed'
Another worker was reported for slapping a patient twice. Both of these staff were disciplined.
A man also rang the CQC directly raising concerns about staffing and restraint. It took three months for someone to call him back.
The CQC said the incidents were reported to local authorities and all of the incidents were appropriately reported and investigated locally.
In a statement it said: "It is the job of the local authority or the police to investigate these incidents and to hold the provider or staff to account if necessary.
"The issue at Winterbourne View was not what was known and reported, but what was concealed."
The role played by all the organisations involved with Winterbourne View is currently being examined as part of a serious case review.