Birmingham riot victims to give statements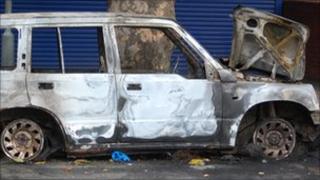 People affected by the riots and looting in Birmingham are being asked to write impact statements which will be used in court sentencing.
Over the next seven days, the public are asked to record how they have been affected by the disorder in a forum, via the West Midlands Police website.
The statements will be used when the courts consider sentences.
Police said more than 520 people had so far been arrested in connection with rioting in the city.
Up to 110 people have been charged so far.
West Midlands Police said the "community impact statements" would make sure that courts understood the damage that has been caused to a community, a neighbourhood or individuals as a result of offences.
Spokesman Ch Supt Steve Anderson said: "We would ask people to send us their experiences of how witnessing the events may have upset or traumatised them.
"The kind of examples we are looking for include if people no longer feel safe living or shopping or socialising in an area following the disturbances or whether individuals have had to change travel plans or cut short a holiday."
Cleaning up areas
City councillors, Birmingham Perry Barr MP Khalid Mahmood, Selly Oak MP Steve McCabe and West Midlands Chief Constable Chris Sims met on Monday to discuss the "civil unrest and recovery".
The MPs are both part of the Home Affairs Select Committee looking at the the rioting.
Up to £40,000 has so far been spent cleaning up areas targeted in the disorder, the council said at the meeting.
At the meeting, a councillor suggested the flag on council house to fly at half mast on day of the funeral of the three men who died in Winson Green last Wednesday.
Haroon Jahan, 21, and brothers Shazad Ali, 30, and Abdul Musavir, 31, died after being hit by a car as they protected stores from looters.