Birmingham mother tells of arrest over son's death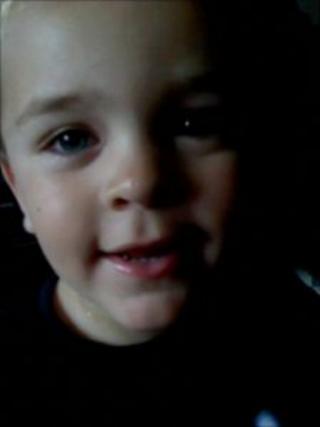 A mother arrested on suspicion of murder following the death of her three-year-old son is considering legal action against the police.
Alfie Podmore, of Quinton, Birmingham, was later found to have died of septicaemia caused by pneumonia.
Abby Podmore, 21, was held in a cell overnight at Bournville Police Station on the day of his death in February. She did not see his body for 10 days.
West Midlands Police has said it is investigating.
Ms Podmore, a dental nurse, said: "I am ashamed to have thought that they would even think that I would do that to my child who was my world and my everything.
"They (the police) tagged me a murderer and I was not. I am just disgusted in the way that I was treated."
Ms Podmore claims she was not allowed to make a phone call home and that it was not until she was being taken back home the following day, after a doctor confirmed the death was of natural causes, that she was told that her son had died naturally.
Crime scene
She was then confronted with a crime scene with a white tent in the front garden.
She says she has not been able to return home because of the stigma of what neighbours think.
Ms Podmore said Alfie was sent home from nursery with a temperature on 2 February.
His grandmother, Mandy Harris, took him to Birmingham Children's hospital the next day after he coughed up blood.
He had a temperature of 39.5 Celsius, shoulder pain and a rash, but his grandmother and mother said they were told by a doctor in A&E that it was a viral tummy upset and they should take him home.
The hospital prescribed an antacid.
His condition worsened in the early hours of 6 February. Ms Podmore tried to resuscitate him, but Alfie was pronounced dead at the scene by paramedics. He had pneumonia and a lung had collapsed.
Police van
Police later arrived at Ms Podmore's home and asked if she could stay with family.
Shortly afterwards, CID officers arrived at her brother's house and said that they wanted to take her in for questioning. When the family protested a van with 15 officers arrived, she said.
Birmingham Children's Hospital has confirmed Alfie was sent home with an antacid and apologised.
A spokesman said: "Investigations are still ongoing but it has become clear that there was more that we could have done to help Alfie."
The family have made a complaint to the police and are considering suing. Ms Podmore has not been charged.
West Midlands Police said: "The force has received a complaint from the family and this is being looked into by our professional standards department.
"Senior officers and a chaplain have already met with the family to discuss their concerns... we will keep the family updated throughout our internal investigation."
There will be an inquest at Birmingham Coroner's Court to consider the medical aspect of Alfie's death in September.