New multi-faith centre opens at Aston University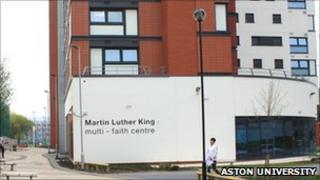 A new multi-faith centre has been opened at a Birmingham university.
The centre at Aston University is named after civil rights activist Martin Luther King Jr.
The university said the building, which has rooms for prayer, meetings and social gatherings, would aim to fulfil the "faith, religious and support needs" of its entire community.
It was officially opened by Aston's vice chancellor, Professor Julia King, on 4 April.
It was on that date in 1968 that Martin Luther King Jr, whose most famous speech contained the words "I have a dream", was assassinated.
"Fantastic addition"
The university said that the new centre would "open its doors to students and staff, irrespective of whatever faith, if any".
Staff and student diversity and well-being manager at Aston, Kate Parsons, said: "We are very proud of the multicultural make up of our staff and student communities and this centre is a fantastic addition to Aston.
"The Martin Luther King Multi-Faith Centre is an ideal place to share, celebrate and recognise our different ways of life, beliefs and attitudes to religion and can ultimately add further value to our well-recognised work on widening participation."
Ms Parsons said they had named the centre after the American activist and pastor as a "reminder to us all about the ethos and values of this remarkable man".
"Themes which were close to his heart, such as justice, peace, mutual understanding and faith are all relevant to us today," she said.