Ufton Nervet deaths: Network Rail apology 'late', says MP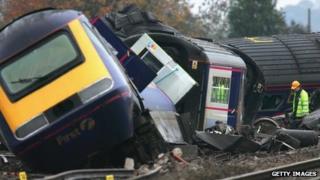 Network Rail's apology to families bereaved by level crossing accidents is "better late than never", a Berkshire MP has said.
Seven people were killed in a crash at Ufton Nervet in 2004 and another person died there in May 2012.
John Redwood, Conservative MP for Wokingham, said the apology was "recognition that mistakes were made".
The apology was made as a report strongly criticised Network Rail's handling of tragedies in the past.
Anna Webster, whose 14-year-old daughter Emily died at Ufton Nervet in 2004, welcomed the apology and described it as a "move forward".
She said prevention was now key and added that she hoped Network Rail would "invest wisely so that we don't lose anymore lives".
Bridge not built
Mr Redwood said local residents did not feel the crash in 2004 had been "at all well handled".
"More importantly, of course, there hasn't been any remedial action on the crossing for the intervening 10 years," he added.
He said he hoped the rail provider would now keep its promise of providing a road bridge at the crossing.
The proposed bridge, which was announced in 2012, is yet to be built but Network Rail said it remained on course to complete it by mid-2014 or 2015.
A spokeswoman said: "The next step is choosing the final option and then undertaking the detailed design process."
Last year, the Office of Rail Regulation's chief executive Richard Price said changes to the crossing were overdue.
Ian Prosser, director of railway safety at the regulator, said it now recognised Network Rail and West Berkshire Council were "working hard" to progress with the work.
The regulator announced additional funding last year to close about 500 level crossings and improve safety at hundreds more.