Windsor to rethink housing plans for flood risk areas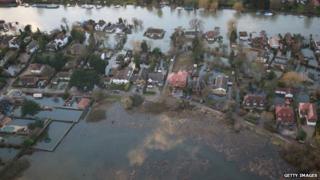 The recent floods have shown that several areas of Windsor and Maidenhead previously deemed suitable for new housing can no longer be built upon.
The council said the plans were based on the Environment Agency's map, which failed to predict flooding in some south eastern parts of the borough.
Four or five sites will now be re-classified as high risk.
As a result, the local authority says it will now miss targets to build 12,000 houses over the next 15 years.
A consultation into the plans was launched in January and will end on 21 March.
Adequate defences
The Royal Borough of Windsor and Maidenhead said it would re-draw its housing plans based on photographic evidence of flooding gathered by residents over the past weeks.
Michael John Saunders, cabinet member for planning, said the areas most likely to come out as at high risk would be villages such as Datchet and Wraysbury.
Some flooded areas could still be included in the plans provided developers can show they can build adequate defences, whereas some parts of the region are now thought be at less risk.
However, in total, fewer areas will be included in the borough's local plan than envisaged last year.
In autumn, the council must convince a government inspector that, despite missing its house building targets, it has made every effort to find new sites.