Newbury Town Council portraits set for restoration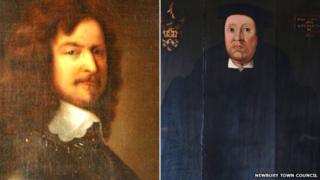 A project to conserve and restore four historic paintings that hang in a Berkshire town hall has begun.
Newbury Town Council will temporarily say goodbye to portraits of Sir John Boys and John Winchcombe as part of a £28,000 restoration scheme.
The portraits, which date back as far as 1550, will return to public view after about three weeks.
Grants and donations have raised £19,000 towards the restoration, which is taking place in Banbury.
Mayor of Newbury, Councillor Anthony Pick, said: "I'm delighted the conservation work is about to start, and am very grateful indeed to the donors whose generosity has made the project possible to its present stage."
The town hall's two other paintings, coronation portraits of George III and Queen Charlotte dated about 1772, will be restored after completion of the first two works.
John Winchcombe, otherwise known as Jack O'Newbury, was a famous cloth merchant of the Tudor era. Sir John Boys defended Donnington Castle, near Newbury, in 1646 during the English Civil War.
The conservation of the portraits will include the restoration of frames.