Reading's Southampton Street eyesore demolition to begin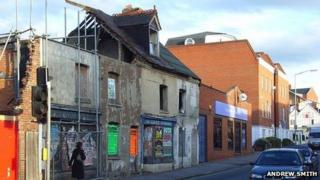 Demolition of a "long-standing community eyesore" along a busy stretch of road in Reading begins later.
The derelict buildings on the corner of Crown Street and Southampton Street have become unstable, Reading Borough Council warned.
Tony Page, leader for strategic environment, planning and transport, said he was "delighted" they were being knocked down.
Options for the site's future have yet to be considered.
The council owns two of the properties but the third was privately owned. It has become the property of the Crown after unsuccessful attempts to trace its ownership.
'Long time'
The buildings once housed businesses such as a drapers and a taxi company.
Mr Page said it had been an "eyesore for too many years".
"As the council doesn't own all the properties it has been unable to just go along and demolish the buildings, as much as we would have liked to," he said.
"This demolition work will involve some disruption, including temporarily having to block off lanes of traffic.
"We apologise to all roads users and local residents for the inconvenience and would ask them to bear with us whilst this important piece of work takes place."