Bracknell artwork saved for new town centre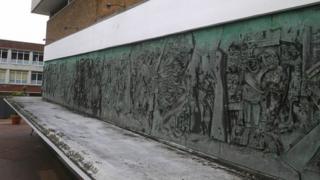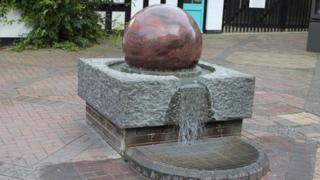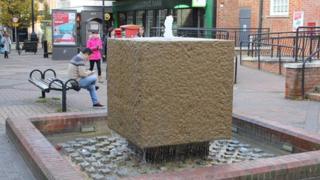 Artwork which was part of Bracknell's 1960s-designed architecture has been saved for use in the new town centre.
A third of Bracknell's town centre is being demolished to make way for new buildings and shops.
The 20th Century Society said it was "delighted" that the Stag Head painting and murals on Crossway House would be saved for the future.
The bandstand and frieze panels above the 99p shop in Broadway will not survive the regeneration.
The council said asbestos in the bandstand and the structure of the frieze had prevented preservation.
However, the Floating Ball fountain in the High Street and the fountain outside the Post Office will be saved as part of the development.
'Strong character'
The mural above Mothercare, the Stag Head painting and the murals on Crossway House will be removed and put into storage.
These artworks will be incorporated into the new buildings in the town centre.
Henrietta Billings, senior conservation advisor for the 20th Century Society said: "Bracknell has a strong 20th Century character.
"For us it's really important that places like Bracknell maintain a sense of history."
Councillor Iain McCracken, of Bracknell Council, said the authority had secured £200,000 to provide "fresh and modern pieces" of art alongside the legacy of the old town centre's artwork.
Bracknell was one of the wave of new towns planned to create housing after World War Two.