Duchess of Cambridge christening church: Reassurance over sale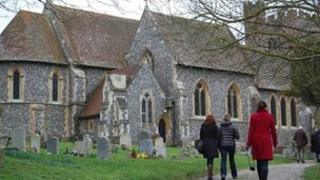 The vicar of St Andrew's in Berkshire, where the Duchess of Cambridge was christened, has sought to reassure residents over plans to sell the building.
Parishioners learned the Diocese of Oxford was in talks with nearby Bradfield College this month.
They have expressed concern they may no longer be able to visit family graves in Bradfield.
Rev Julian Gadsby said access to the churchyard would not be restricted.
He said it was sad that the church faced closure, but St Andrew's was now too large for the congregation and was expensive to heat.
He said the diocese was considering building a new church on the St Peter's site in Bradfield Southend, as the area had a young and growing population.
Historic links
He promised the churchyard would remain consecrated and said parishioners would still be able to visit graves.
Bradfield College said in a statement: "It has been agreed in principle that the college could provide a good long-term future for St Andrew's Church, especially as the college has historic links with the church and already uses it for religious services."
It said the talks were at a very early stage.
Catherine Middleton was christened at the church in June 1982.
The Grade II* listed building was remodelled in French Gothic style by Victorian architect George Gilbert Scott in the mid-19th Century.
The work was paid for by the Reverend Thomas Stevens, who founded nearby Bradfield College in 1850.
The Diocese of Oxford said there would be an 18-month consultation period before any changes were made.