Reading councillors debate plans for town's woodlands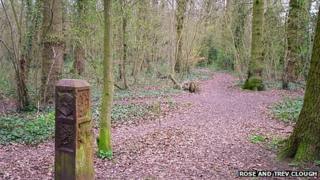 Plans to protect and maintain woodlands in Reading have been debated.
Reading Borough Council says management strategies are needed following changes to how timber and other wood are grown in commercial woodland.
Plans for 16 areas of woodland across the borough were agreed by councillors following a seven-week public consultation earlier this year.
Local wildlife groups hope the plans will protect biodiversity as well as encourage increased public access.
The plans have been developed by the council, the Forestry Commission and a number of local interest groups.
Reading Urban Wildlife Group said it was concerned there was "a direct conflict" between public access and protecting biodiversity.
A spokesman said: "A proportion of regular users are dog walkers, who have limited interest in conservation objectives and just require a set of circular routes to use.
"Other persons are primarily interested in mountain biking areas or the shortest route to play areas.
"All of these are perfectly understandable, but we would like to see larger woodland sites in Reading with an area, or a few areas, primarily for biodiversity rather than public use."