Bracknell Santa Dash attracts 500 runners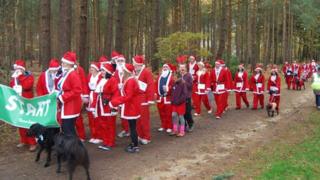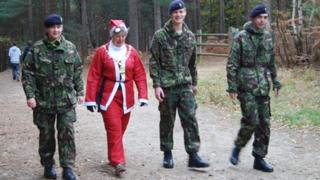 A 5km (3 mile) "Santa dash" across a forest in Berkshire has attracted 500 runners.
Participants dressed up as Father Christmas to take part in the run in Swinley Forest in Bracknell, raising more than £19,000 for Thames Hospice.
Mayor of Bracknell Forest Jan Angell, who took part in the event, said the atmosphere was "tremendous".
Michelle Bowdidge, events and community manager at the charity, said dogs took part for the first time.
"It's something for everyone to really come out for, to get into the Christmas spirit, and enjoy," she said.
"It's fantastic that the volunteers and all the participants come out to raise money for their local hospice just before Christmas."
The event, which is in its fifth year, also included a special race for children.
Mrs Angell, who walked, rather than "dashed" across the route, said she was "over the moon" to have completed it.
"5km was a lot further than I thought it would be, going up and down small hills," she said. "I hadn't prepared myself.
"But it was funny. On the drive there you could see people going to church, staring as a load of Santas crossed the road, wondering what had happened."