Berkshire murder plot appeal: Covert recording 'breached rights'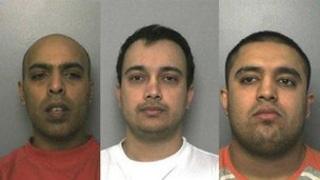 A covert recording between two men convicted of conspiracy to murder breached their human rights, a court has heard.
Amjed Mahmood and Jaspal Kajla are appealing against their April 2012 convictions, along with Imran Khan.
All three were found guilty of plotting to murder Quadir Hussain, who was shot in Berkshire in September 2010.
The Court of Appeal heard the recording allowed police to obtain a confession "by the back door".
Mahmood, Kajla and Khan were each sentenced to life with a minimum of 10-and-a-half years following a trial at Reading Crown Court.
Taxi driver Mr Hussain was shot three times on his driveway but survived the attack.
'Tactical decision'
Khan, 36, of Wickham Road, Lower Earley, Berkshire, hired the two other men to carry out the shooting following a long-running feud between the two families over land ownership in Pakistan.
Dafydd Enoch, representing Mahmood and Kajla, argued evidence obtained from a conversation between the pair allowed police to obtain a confession "by the back door".
Mahmood, 33, of May Street, Coventry and Kajla, 37, of Hepworth Road, Binley, were recorded talking to each other about the shooting while being transported in a security van to court in March 2011.
In the recording, the prosecution argued the men revealed their connection to Khan and that Kajla met with Khan in Reading five days before Mr Hussain's shooting.
But Mr Enoch told the court police had already obtained enough evidence to convince the Crown Prosecution Service to charge both men and the recording in the van was a breach of their human rights.
The appeal court judges also heard the recording in the van was not presented as evidence in the men's original trial in July 2011 at which a jury failed to reach a verdict.
However, it was presented at the subsequent retrial where the men were convicted.
John Price, for the crown, argued no human rights had been breached and police made a "tactical decision" to obtain evidence in good faith.
Referring to Khan's appeal, Mr Price illustrated extensive mobile phone records examined from the three men had proved Khan and Kajla had met in person five days before the shooting.
Judgement was reserved to a later date.