Newbury Racecourse profits from new housing deal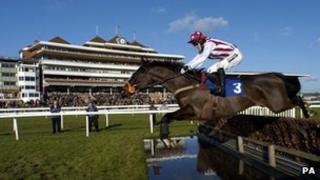 Newbury Racecourse has swung into profit because of increased media revenue and house building near the site, its owners have said.
The racecourse in Berkshire has posted first half profits of £823,000, compared to a £1.2m loss in the same period last year.
Chairman Dominic Burke said profits were due to contracts with David Wilson Homes and Turf TV.
But revenue from spectators was down, the racecourse said.
A big boost came from David Wilson Homes, which is building 1,500 homes in the area over 10 years.
'Frankel factor'
In a statement in the interim financial report, Mr Burke described "exceptional profits in the property business relating to the recognition of the replacement car park in the centre of the racecourse which forms part of the enabling works funded by David Wilson Homes".
He added: "The reduction in the underlying operating loss... is the result of the enhanced media income from the new Turf TV contract from 1 April 2013."
However, the racecourse is suffering as a result of what it calls the "Frankel factor".
It saw large attendances in 2012 as Frankel maintained his 100% record in the JLT Lockinge Stakes. Although the course would not give out attendance figures, it said the number of spectators was down for this year's race.
It also described the Party in the Paddock event featuring Rita Ora as "disappointing".
The report said: "[These] events, which have supported the business in recent years, have seen more difficult trading conditions reflecting trends across the live music industry.
"Securing appropriate acts has been challenging, with major festivals demanding exclusivity from acts, limiting choice for smaller promoters such as the racecourse."