Reading Thames bridge 'needs separate cycle lanes'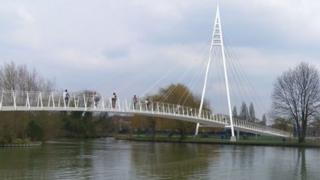 Cyclists in Reading have said a planned pedestrian and cycle bridge needs to include separate lanes to avoid bringing "people into conflict".
Reading Borough Council have estimated 68 cyclists per hour will use the new bridge, which is planned for a site close to the town's railway station.
However, Reading Cycling Campaign said three times more cyclists will use it.
The council has previously said the designs for the bridge could not "accommodate" a cycle lane.
The proposed third bridge over the River Thames will link Christchurch Meadows with the redeveloped railway station.
'Unenforceable'
The Labour-led council said a public consultation on the design attracted a 95% positive reaction out of about 200 responses.
However, the cycling campaign said that, based on their own annual count of cyclists using the existing Reading and Caversham bridges, it would not be wide enough for both cyclists and pedestrians.
Reading East's Conservative MP Rob Wilson said the campaign had "a serious point".
A spokesman for the sustainable transport charity Sustrans said the organisation disagreed with the campaigners and that separate cycle lanes were "unenforceable".
"From our experiences we know that people will want to move with freedom across the bridge, whether they are on foot or on bike," he said.