Fire crews train in Bracknell's condemned shopping centre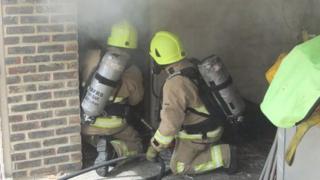 Firefighters in Berkshire have been tackling live fires and rehearsing rescue scenarios in a condemned town centre shopping precinct.
Crews from Royal Berkshire Fire and Rescue Service are using the buildings in Bracknell's Broadway and Crossway for a three-day training exercise.
Last month, the area was sealed off and work began to dismantle the site and prepare the buildings for demolition.
The 1960s buildings are being cleared to make way for shops and a cinema.
'Advanced skills'
Helen Barnett, marketing manager for the Bracknell Regeneration Partnership, said the fires were contained and there was no cause for alarm to residents.
Fire service area manager Gene Ashe said: "We are very grateful that the Bracknell Regeneration Partnership has given us such an excellent opportunity.
"The location is absolutely ideal for developing the advanced skills in urban search and rescue that the fire and rescue service is increasingly called upon to deliver."
He said the layout of the buildings allowed crews to use all their equipment and rehearse different rescue scenarios.
Demolition of the buildings is expected to be complete in October.