Royal baby: Kate's home village of Bucklebury celebrates birth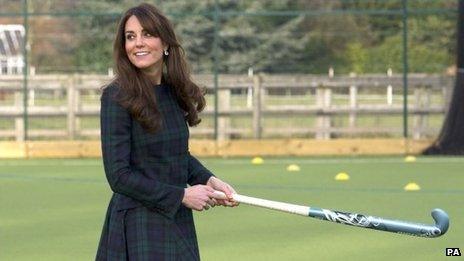 The street cleaners have been working furiously, police officers are standing guard and the media have descended - Bucklebury is once again in the spotlight.
The village has been "buzzing" with royal baby talk for weeks, so when the news finally came of the birth of a baby boy it was met with a sense of relief and celebrations corks.
The Duchess of Cambridge's childhood home is actually in the Berkshire village of Chapel Row, but it is the parish of Bucklebury in which it lies that has become synonymous with her early life.
The Old Boot Inn, in Stanford Dingley, was much busier than normal on Monday evening, although many of the visitors were journalists and TV crews.
Landlord John Haley said: "Everyone's over the moon. When the news came out everybody went crazy. I think the celebrations are going to be all week.
"People are going to party all week long. I've already sold 12 bottles of champagne."
Lainee Buchan, from Upper Bucklebury, went there with her son Charlie, 19, to celebrate the birth.
She said "There have been helicopters. The journalists have been at Peach's Store quite a lot.
"There's definitely a buzz about the place - there's such a nice feel. I'm really pleased it's a boy."
One of the people in the pub was horse dealer David White - who claims to have sold a nag to the Queen in 2003.
He brought along his family and his cob, Derek, which he had decorated with bunting.
Song for baby
The Duchess had been staying with her family up until Friday before travelling to London, and there is speculation she plans to return to Berkshire with her new son.
In the bunting-clad village the party got started with champagne corks popped and a special gift for the baby - his very own song.
Composer Daniel Nicholls taught piano to Catherine from the age of 11 and also gave lessons to her sister Pippa, brother James and mother Carole.
"It will be a personal gift to Kate and William so will not be released to the public but essentially First Breath is a song about birth from the baby's point of view," he said.
"There has been an air of happy expectation which gives a buzz [to Bucklebury].
"I am certain that Kate will share the same love and concern for her children that she received as a child.
"Carole, Mike, Pippa and James will all get involved and have a giggle together when inevitably things are not quite as ordered as they were before."
Mr Nicholls believes the duchess and Pippa still play piano for fun and he often tells his pupils to "keep practising and, who knows, someday you might be a member of the royal family".
'Always happy'
The eldest of three children, Catherine was born at the Royal Berkshire Hospital in Reading and raised in a modern four-bedroom detached house.
She has maintained strong links to the south of England and it was in Southampton where she carried out her final solo engagement, officially naming a new cruise ship.
While it was at her old school in Pangbourne, Berkshire, where she famously took part in an impromptu game of hockey before the world knew she was carrying her first child.
St Andrew's head master, Dr David Livingstone, said: "All the staff, boys and girls... are delighted to hear about the safe arrival of the royal baby.
"When the Duchess of Cambridge visited... in November, we felt at ease with her.
"She was graceful, serene and warm. I can imagine she will be a lovely mum."
Caitlin Rock, eight, who presented Kate with a posy during her visit, said: "I thought it was amazing when I heard she was pregnant.
"I hope her baby will always be happy."