Concerns about injured swans as annual census starts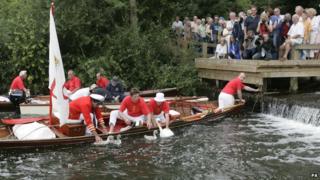 Concerns have been raised about "avoidable" injuries to swans as the annual census of the swan population gets under way on the River Thames.
The Queen's Swan Marker David Barber said the birds were at increased risk of injury from dog attacks, fishing tackle and "mindless vandalism".
He appealed to the public to take more care to help protect swans.
The census, a medieval tradition, has started between Sunbury-on-Thames in Surrey and Windsor in Berkshire.
It is due to end at Abingdon in Oxfordshire on Friday.
Mr Barber said the number of reported dog attacks on swans had risen and asked owners to ensure their dogs were kept under control.
He added: "When we have dog attacks it's through carelessness. We are trying to stamp it out.
"It can be stopped if people are more careful."
Mr Barber has also raised concerns about a reported rise in the mink population on some stretches of the River Thames, which he said were responsible for killing young cygnets and destroying eggs.
The five-day census will see cygnets weighed and measured, examined for signs of injury or disease and taken for treatment if necessary.
They will be ringed with individual identification numbers before being set free.
Schoolchildren are expected to join the Swan Uppers along the route, which also runs through Buckinghamshire, to learn more about the census.
The historic Swan Upping ceremony dates back to the 12th Century when the Crown claimed ownership of all mute swans, which used to be considered a delicacy.
Swan Upping now serves a conservational rather than culinary purpose.
Last year part of the ceremony was cancelled for the first time in its 900-year history because of flooding.