Gypsies 'forced to camp illegally' in Berkshire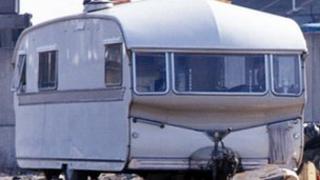 Gypsies and travellers say they are being forced to use illegal sites across Berkshire because there are not enough official pitches in the county.
The claim comes as a group staying in Maidenhead were ordered to leave within a week of arriving.
Joseph Jones, chairman of the Gypsy Council, said the 37 existing official pitches were not enough to meet demand.
Windsor and Maidenhead's council said it hoped to achieve its target of seven to nine new pitches by 2018.
Mr Jones said: "A lot of money has been spent on deciding how many new pitches there should be but unfortunately most of the local authorities seem to fall shy of tackling the issue.
"They don't want to make themselves look unpopular in the yes of the electorate - it's a political football.
"I wouldn't single out any one [council] as being any better or any worse than the other - they all neglect their duty to the community."
'Point the finger'
A group pitched on Maidenhead Town Moor left on Wednesday after being served an eviction notice.
Royal Borough of Windsor and Maidenhead Council, where there are already five sites, is also involved in court action to evict travellers from land near Waltham St Lawrence.
Borough councillor Michael-John Saunders said: "It is undoubtedly true that if we were able to clearly demonstrate that we had available the appropriate number of sites then handling unauthorised encampments would clearly be more straightforward.
"We have very substantial green belt, we have a lot of flood plain around the River Thames, and identifying the sites which will provide those additional pitches is far from straightforward.
"I think it's often the desire, when things don't seem to happen quite as quickly as people want, to point the finger at somebody."
Wokingham Borough Council, where 18 sites are located, said it was meeting the needs of travellers.
Councillor Keith Baker said: "We are on a known travellers' route - there are a lot of historic routes around the country.
"If you are on that route, there is going to be a higher need for sites and we have had a huge number of landowners, generally associated with travellers themselves, bringing forward planning applications for sites for new pitches.
"We have now reached, at least for the next couple of years, the number of sites that our needs assessments has indicated that we need."