Berkshire councils row over Heatherwood Hospital future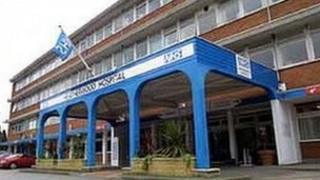 Plans to close a hospital's minor injuries unit and move it to a town three miles away have prompted a dispute between two councils.
The unit at Ascot's Heatherwood Hospital is set to close in January and relocate to Bracknell following a public consultation.
Windsor and Maidenhead Council has applied for a judicial review.
Bracknell Forest Council has said it feels that decision will delay vital improvements to local health services.
The three-month public consultation held by NHS Berkshire earlier this year also decided to close a maternity unit and rehabilitation ward for stroke patients at Heatherwood Hospital.
An urgent care centre will be set up in Bracknell.
Deputy leader of Bracknell Forest Council, Councillor Dale Birch, called Windsor and Maidenhead's call for a judicial review a "sad and destructive threat" to essential health reforms.
He said: "All clinical evidence points to the need to decommission Heatherwood Hospital's ageing and costly minor injuries unit and replace it with a new and state-of-the art urgent care centre.
"We're stunned at the efforts to preserve old, inefficient and costly facilities at Heatherwood.
"These actions could cost their taxpayers tens of thousands of pounds and deny large communities the high quality health services they are entitled to."
In response, Councillor Sayonara Luxton from the Royal Borough of Windsor and Maidenhead Council, said: "It's very disappointing Bracknell Forest has chosen to adopt this unhelpful stance.
"It will not stop us taking the battle forward by using whatever means we can in support of excellent NHS services for our residents in the place they want them."