Newbury on-street parking fees plans a step closer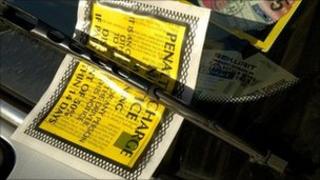 Plans to charge for on-street parking in a Berkshire town centre are being taken forward - despite more than 1,700 people petitioning against the move.
West Berkshire Council said introducing fees in 12 streets in Newbury would encourage a higher turnover of spaces and help local businesses.
Charges are opposed by many residents, traders and workers, who say charges are unnecessary and will deter trade.
Plans have now been reviewed and are set to go out to public consultation.
If introduced, on-street parking charges would apply daily from 08:00 to 18:00 from Monday to Saturday including bank holidays.
Fees would vary depending on the street, with a daily charge of £1 on Sundays.
Parking would remain free for 30 minutes in areas where charges are introduced.
However the council has made some amendments to the proposals after 1,780 people signed two separate petitions against the move.
They include retaining some spaces subject to two or four-hour limited waiting restrictions instead of introducing charges and increasing the number of parking bays in some areas.
The council already charges for on-street parking in Station Road, Newbury, and Hungerford High Street.