Canada goose numbers prompts Caversham concern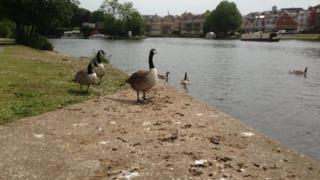 An apparent rise in the number of geese around a stretch of the River Thames in Berkshire has caused concern.
The Canada geese and goslings have been converging on Christchurch Meadows, on the Thames towpath in Caversham.
Councillor Richard Davies said the birds could be "a nuisance" but a cull was not being considered.
Reading Borough Council said it would be stepping up the cleaning of paths along the river. The RSPB urged people not to feed the geese.
Walker, Rachel Tree from Tilehurst, said: "The poo on the tow path is unpleasant, but people do feed the geese as they treat them like cuddly toys at times.
"It's simple really, there's more of them than in previous years, so there's bound to be more poo."
'Few predators'
An RSPB spokeswoman said flocks of Canada geese in the UK had increased significantly over the last 30 years.
"Because the geese have relatively few predators, and can produce four or five young per year, numbers at particular sites can grow very rapidly and they may be considered a nuisance in some public parks."
She said the geese should not be fed as that encourages them to congregate and leads to problems of droppings building up.
Mr Davies said the birds could be "intimidating", especially to young children.
"We have a lovely river flowing through the town, but wildlife tends to do what it does. I'd encourage people to be tolerant," he said.
He said the authority was not considering a cull but other options to deal with the birds included fencing off parts of the river.