River Thames Reading bridge on track for end of 2014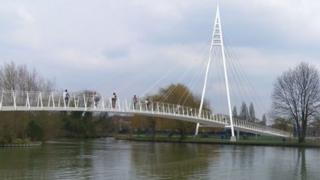 A public consultation has come out in favour of a new pedestrian and cycle bridge over the River Thames.
Reading Borough Council, who commissioned the report, said the majority of responses were in favour of a bridge linking Christchurch Meadows with the redeveloped railway station.
Cycle campaigners feel its design needs to be reconsidered to include designated lanes for cyclists.
The council hopes to submit a planning application next month.
Councillor Tony Page, cabinet member for transport, said: "There were around 200 responses to our consultation and roughly 95% were hugely positive.
"The benefits, particularly for cyclists and pedestrians, are self-evident as they will have a new route into the town centre that's much safer and more attractive.
'Purely for cyclists'
"There were one or two cyclists lobbying for a designated cycle lane on the bridge, which I don't think we will be able to accommodate, but we're still looking at the detailed design.
"Ultimately, the aspiration is to link the new northern entrance to the railway station to the subway underneath and the town beyond."
Adrian Lawson, chairman of the Reading Cycle Campaign, feels proper consideration has not been given to cyclists in the planning phase.
He said: "Our concern is this will be a shared-use facility, which will be incredibly busy at peak times and therefore not particularly effective.
"It should be segregated or a special facility purely for cyclists.
"The ideal solution would be a two-way cycle line down the middle with pedestrian pavements either side."
The bridge would be paid for from a successful £20.7m bid from the Local Sustainable Transport Fund (LSTF).