Beenham compost fire: Seven-month long blaze finally out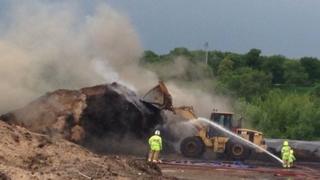 A compost fire which burned for nearly seven months at an abandoned recycling centre has been finally put out.
Firefighters from Royal Berkshire Fire and Rescue Service worked for more than two weeks to spread and extinguish the smouldering waste in Beenham.
The fire, at the Good2Grow site, was declared a "public nuisance" by West Berkshire Council.
The site had been leased from waste management company Grundon. Good2Grow ceased trading before the fire started.
Two crews of firefighters and their appliances started work to extinguish the fire on 5 June working on site every weekday. Following the 13-day operation, it was finally put out on Friday.
'Worked incredibly hard'
Paul Maynard from the fire service said: "It has been a pretty unpleasant job for the firefighters and digger drivers.
"We were expecting it could take three weeks to move, spread and wet the enormous piles of waste organic material, but they worked incredibly hard.
"I'd like to thank Grundon for providing drivers and equipment to move and spread out the waste so we could get to the smouldering areas buried deep inside the piles."
Andrew Short from Grundon said: "We're now working closely with the Environment Agency to agree an appropriate methodology and timescale to clear the remaining materials from the site.
"This may take some time, but both parties are committed to seeing it through."
Efforts to contact Good2Grow by both Grundon and the Environment Agency have been unsuccessful.
Royal Berkshire Fire and Rescue Service confirmed the operation at Beenham was classed as a fire and would not be charging for the time their crews spent tackling it.