Caversham care home campaigners hand over 3,500 signature petition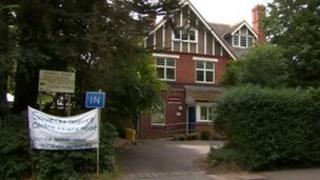 Campaigners battling to save an under-threat care home from closure sparked a full council debate after handing in a petition with 3,500 signatures.
Reading Borough Council has said Arthur Clark care home in Caversham is not fit for purpose and needs £1.1m of works to bring it up to modern standards.
Plans, which include upgrading or shutting it, were the subject of a recent public consultation.
They were debated by councillors at Reading's Civic Centre earlier.
Campaigners protested outside the civic centre before handing in their petition to a full council meeting.
A motion to defer the decision on the care home's future was defeated by 26 votes to 18.
The council's adult social care, children's services and education committee is expected to make its decision as originally planned on Monday.
Relatives say the home's elderly residents do not want to move.
'Very anxious'
Frances Trinder's 93-year-old mother has been a resident at the home, which can provide care for up to 25 people, for about a year.
She said: "A lot of the residents are very anxious about it, it's like a family home to them. Some of them have been there for 20 years-plus.
"It's very disappointing that our motion was defeated, but there was a good discussion with a number of councillors speaking in our favour.
"We will keep up the pressure and the campaigning."
The council said the care home does not meet standards required by regulator the Care Quality Commission.
It does not have en-suite bathrooms, some bedrooms are small and some communal areas need "significant upgrading".
Options include moving residents to alternative accommodation while works are carried out, shutting the home, or waiting until residents have passed away or are moved when their care needs increase before undertaking works.