Work to boost fish numbers in River Thames completed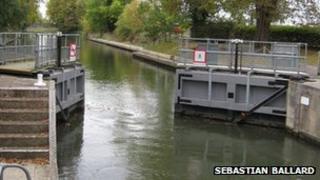 Work aimed at boosting fishing facilities along the River Thames in Berkshire has been completed.
New angling platforms and better signs have been installed at Cookham Lock in Berkshire.
Fish stocks have been increased as part of the scheme which has been carried out the Environment Agency (EA).
John Sutton, from the EA, said the work would make a "big difference" to anglers and hoped it would encourage more people to enjoy the River Thames.
A similar project at Penton Hook has also recently been completed.