Beenham compost fire: Work starts to put out six-month-old blaze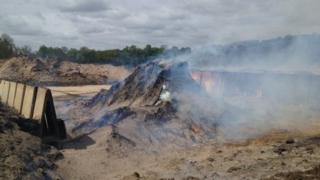 Work to put out a Berkshire compost fire that has been burning for six months, will begin later.
The blaze on the Good2Grow site in Beenham is expected to take three weeks to extinguish.
The fire started at the end of November 2012 and has been declared "a public nuisance" by West Berkshire Council.
Good2Grow, which leased the land from waste management firm Grundon, ceased trading before the fire broke out and was unavailable for comment.
Giant ash plume
Remaining organic matter will be moved a tonne at a time to a nearby site and saturated with water.
It has been monitored by the fire service who had said using traditional methods of using water to put it out would create a giant ash plume.
Nicole Targett, from the Royal Berkshire Fire and Rescue Service, said "significant amounts" of smoke and ash would still be released due to the "operation of this size", but added the fire would be "extinguished completely" once work is finished.
An Environment Agency investigation into the cause of the fire is continuing.