Madejski Stadium in Reading hosts FA legends Army charity game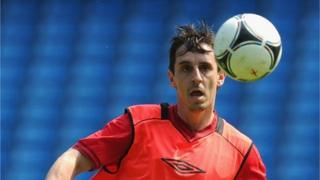 Football legends have been playing against British Army players at Reading's Madejski Stadium to raise money for two military charities.
The FA Legends team, managed by Roy Hodgson, features Gary Neville who said he would never play football again after his final game in 2011.
The Army side has been coached by Under-21 boss Stuart Pearce.
The game has been organised by the Football Association to mark its 150th anniversary.
'Incredible people'
Hodgson's team will include players such as Matt Le Tissier, Ledley King and Jens Lehmann.
Neville enjoyed a hugely successful playing career, turning out for Manchester United 602 times and representing his country on 85 occasions.
"I did say when I finished playing, after playing in Paul Scholes' testimonial for 20 minutes, that I wouldn't play another game of football again, but I've had my arm twisted," he said.
"I am looking forward to it. Supporting the troops is the main thing.
"What they do is beyond anything football can achieve.
"They're putting their lives on the line, making incredible sacrifices to be away from home, along with all the training they do and the discipline.
"They're absolutely incredible people."
The game will raise funds for the Team Army Sports Foundation and the Royal British Legion.