Beenham compost fire: Legal notice served on company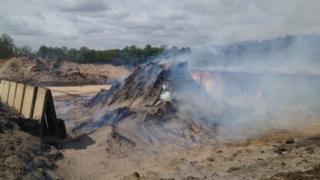 A blaze at a recycling plant in Berkshire that began in a pile of wood mulch in November has been declared a "public nuisance".
A legal abatement notice has been served on Good 2 Grow Recycling which owns the pile at Beenham, giving them 14 days to tackle the problem.
The fire has been monitored by the fire service which said using water to put it out would create a giant ash plume.
The waste will now be spread out to allow the flames to be extinguished.
The Environment Agency, which licensed the site, has now agreed to vary its conditions so waste contractor Grundon, which owns the land, can spread the compost out.
Royal Berkshire Fire and Rescue Service said they would soon be mounting an "intensive operation" to extinguish the remaining piles of smouldering compost.
A spokeswoman said: "Although it poses no risk to life or to property and has been reducing steadily, the smell from the smouldering piles has been extremely unpleasant for local residents affected by the smoke plume."
She said there could be an increase in smoke levels while the work is carried out but, once completed, the fire will be completely extinguished.
The pile is owned by Weston Super Mare based Good 2 Grow, but the company laid all its staff off and effectively shut down just days before the thousand tonnes of wood chippings and other green waste spontaneously combusted.
The fire, which covers an area the size of a football pitch, broke out in fermenting green waste on 30 November.
Recent high winds had caused smoke to billow from the smouldering fire, causing concern for residents.
Good2Grow Ltd has been unavailable for comment.