LaplandUK could move to Whitmore Bog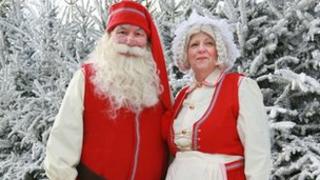 A Christmas-themed attraction could be moved near to the site of a bog after people complained previous plans would impact on the wildlife.
LaplandUK's current home is at Lamberhurst in Kent but in 2012 owners Mike and Alison Battle wanted to move to Buttersteep Forest, near Bracknell.
However, in a letter to residents they proposed the nearby Whitmore Bog on the B3017 in Berkshire as a new site.
Plans will be unveiled at the Lavender Golf Club, near Ascot, on Saturday.
The letter said: "Having listened and taken into consideration a number of local concerns regarding the selection of Buttersteep Forest as a potential venue in 2012, we are proposing a new site which we feel addresses many of these concerns.
"The proposed site... is not located in the Green Belt... nor is it adjacent to an area of Site of Special Scientific Interest protection.
"The land is privately owned by the Crown Estate and used for commercial forestry."
Seasonal jobs
Mr and Mrs Battle described LaplandUK as a "children's theatrical Christmas experience that celebrates a young child's fleeting belief in Father Christmas".
About 7,500 families are expected at the temporary installation over 25 days in December, which organisers say could create more than 250 seasonal jobs.
Mr Battle said the site near Whitmore Bog was a "beautiful part of the country" and said LaplandUK would not be utilising the boggier parts of the site.
He said the move from Kent was to enable better transport links to the event, adding: "Even at its peak the addition to the traffic on the road is estimated to be 3 to 4%.
"It was a difficult decision to to cancel our plans last year but we wanted to mitigate any problems and communicate to people what we do."
Stephen Grist, of campaign group No Lapland in Swinley which opposed the 2012 proposals, said: "We are as yet unclear as to the the precise location.
"Depending upon what the plans look like, I imagine we will have some comment thereafter."
Tony Virgo, councillor for the Ascot ward at Bracknell Forest Council, said he was happy with the proposal and LaplandUK would be good for the local economy.