Toxic caterpillars targeted by helicopter spray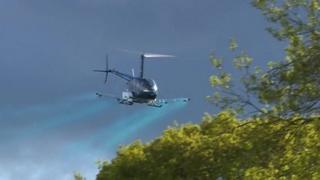 An area of West Berkshire has been sprayed with the use of a helicopter in a bid to kill off toxic caterpillars that can cause health problems.
The aerial spraying near Pangbourne is the first time larvae of the oak processionary moth have been targeted in this way.
They feed on oak trees and their hairs contain a toxin that can cause itchy rashes, eye and throat irritations.
The Forestry Commission said the spray poses no risk to humans or animals.
Report sightings
The trees have been sprayed with a bacterial agent called Bacillus thuringiensis that occurs naturally in soil.
It has been authorised for the operation by Natural England, the government's advisor on the natural environment.
Aerial spraying is considered more effective than ground treatments as the caterpillars are attracted to budding leaves at the top of the trees.
Alison Field, of the Forestry Commission, said: "The caterpillar has come into this country on imported trees and there are no natural predators for this caterpillar."
The 25 acre woodland area of Herridge's and Broom copses as well as a 2.5 acre block of trees are being sprayed twice over a two-week period.
Residents are urged not to touch the caterpillars or their nests and to report any sightings.
The caterpillars were first found in the Pangbourne area in 2010.
Just three nests were found last year, compared to several dozen in 2011.